Meet the ProMagix G480 High Performance Computing solution. Configurable as a 4U rack or deskside form factor, this GPU powered system is highly customizable to meet the specific needs for your application. With up to 8 x NVIDIA Tesla, GeForce, or Quadro GPUs, 1.5TB of DDR4 RAM, and 36 physical CPU cores, this may actually be the most powerful single workstation in the world, designed specifically to solve the world's previously thought unsolvable problems.

Contact our expert sales team at 888-300-4450 for assistance or click the button below to configure on your own.

Configure Now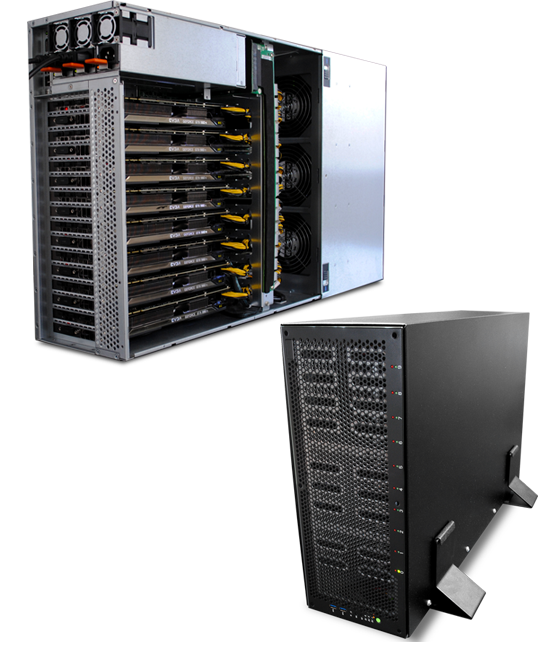 Nearly 70 TFlops of Compute Power
The ProMagix G480 is configurable with up to 8 x Tesla, GeForce, or Quadro GPUs to produce close to 70 TeraFlops of single precision and 23 TeraFlops of double precision compute power from nearly 40,000 CUDA cores. Up to 1.5TB of DDR4 RAM, dual Intel Xeon v4 processors with 18 cores and 45MB of cache each, and 12 hard drive slots make the G480 one of the most powerfully capable workstations in the world. That's the type of power that turns day long calculations onto hours and hours to mere minutes. The best part, the G480 is fully configurable and expandable to meet your current needs and budget.
Premium Components
We use only the very latest premium retail workstation grade parts in the ProMagix G480 for maximum performance, cooling, and reliability. Each component is hand selected and pre-qualified to provide the best experience possible. That means when you make a part selection in our custom configurator, it has already been tested, verified, and approved to meet our standards.
Deskside or 4U Rack Form Factors
The G480 is configurable in both deskside and 4U rack form factors to give you the options you need for your office or workspace. Both form factors are fully configurable and expandable, meaning you can choose what works best for you without sacrificing on hardware.
About High Performance GPU Computing
The high performance computing (HPC) industry's need for computation is increasing as large and complex computational problems become commonplace across many industry segments. Traditional CPU technology, however, is no longer capable of scaling in performance sufficiently to address this demand.
The parallel processing capability of the GPU allows it to divide complex computing tasks into thousands of smaller tasks that can be run concurrently. This ability is enabling computational scientists and researchers to address some of the world's most challenging computational problems up to several orders of magnitude faster than CPU-only methods..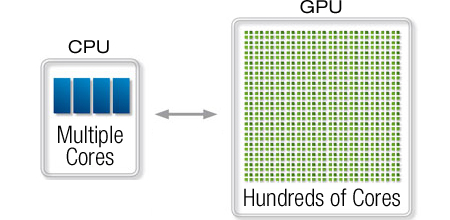 How GPU Computing Works
While a CPU consists of 4 to 18 CPU cores, a GPU consists of hundreds or thousands of smaller cores. GPU computing is the use of these GPU cores as a co-processor to accelerate CPUs, specifically for very high demand scientific and engineering applications, allowing them to operate together to crunch through the data in the application.

By utilizing the GPU's massively parallel processing power and offloading some of the compute-intensive and time consuming portions of the code to the GPU's cores, the GPU can exponentially accelerate applications running on the CPU. This massively parallel architecture is what gives the GPU its high compute performance. The result is the application power of a massive CPU-only cluster in a desktop form factor that consumes less power and increases performance 10x – 100x, solving equations in minutes instead of hours.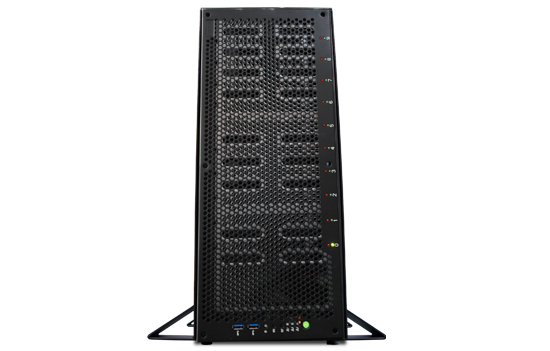 100% US-Based Tech Support
Every Velocity Micro PC comes with complimentary lifetime business hours phone support. And the best part – a call placed to our expert, non-tiered support team will never be routed anywhere offshore. Not ever.

It costs us more, but we refuse to let anything get in the way of an astonishing customer experience.
100% Based in the USA
Each and every Velocity Micro PC ships from and is supported by our Richmond, VA headquarters. We don't outsource. We don't cut corners.

We don't compromise. It's just that simple.
ProMagix™ G480
Configure Now